Yes, there are far too many angry people in this Village. At least we have 3,000+
here
.
What've you done during the Chinese New Year holiday? I was busying myself with different trivial things IRL and never had a chance to watch this
important TV ad
featuring a cartoon Donald Tsang and our favourite piggie McDull until today. I didn't even have a chance to get enraged and write thousands words accusing Bowtie, the authors of McDull, and every other shits I got over the Chinese New Year holiday, ROARRRRR!!!!!! I guess I should hop on the bandwagon by joining the 3,000+ angry folks there. Just need to do a
hypocrisy check
, or else I'd have to
leave the group in two days
if somebody found me...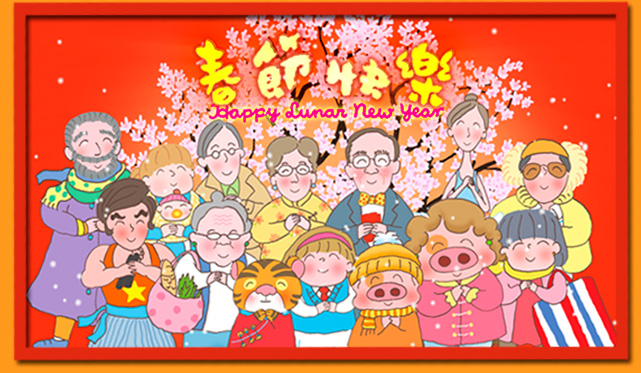 This cartoon ad, which I guess millions of people in Hong Kong ignored, got on the nerves of those 3,000+ people in Facebook, a university
lecturer
, a few influential bloggers/columnists like
this
,
this
and
that
.
They basically thought that McDull was sold out. Their favourite piggie was sold out to the evil
Darth Bowtie
.
They thought McDull represents certain mysterious values/points of view/ideology/Weltanschauung of Hong Kong. This piggie is the most sacred of all cartoon characters, and Darth Bowtie's co-existence with him is the worst blasphemy that could ever happen.
WTF.
I could hate Donald Tsang for many other things he did, or did not do. But making a big fuss out of that 30-second, entirely negligible, cartoon ad for Chinese New Year sounds a bit...stupidly fussy to me. I know you fans of McDull would say that I don't understand the values/points of view/ideology/Weltanschauung McDull represents. Well...yes, I don't understand. Go back to your
FB page
and have fun there. Don't watch the next McDull movie, throw all your McDull merchandises away. Feel good about your righteousness from there.
I only ask you commentators for one simple favour. Stop quoting Haruki Murakami's Jerusalem Prize speech. It really gets a bit tasteless by now. Whenever you're not happy about something the government did, you quote Murakami's egg-wall metaphor. I couldn't help but
asked
Haruki Murakami how he feels about that. Oh eggs, sometimes I am more disgusted by rotten eggs than big tall wall, please.
3,000 rotten eggs make a tasteless System called Bandwagon. We made the System and it starts to "take on a life of its own, and then it begins to kill us and cause us to kill others – coldly, efficiently, systematically."