I wrote
this
guest post about
BritishHongKong
and its advocates for the Dark Side last week. Considering that the topic is so
negligible
controversial, and that those
serious people
over TDS hold very stringent editorial rules, the post could only come out this morning. We even had to have a meeting in Dragon-I last Saturday evening to nail things down with
Milfo
.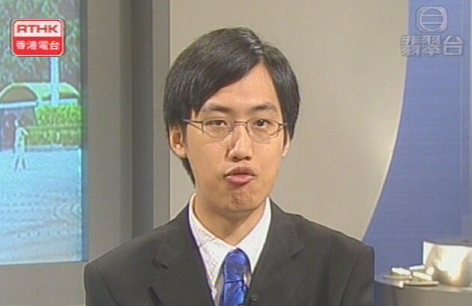 The post was controversial, because it would get on the nerves of one of the top Hong Kong bloggers,
Martin Oei (黃世澤)
, who's a
big deal
in the local blogsphere and media. Yesterday, I read a blog post by his close associate from the famous
Plastic Hong Kong Blog
that is equally
negligible
controversial yet important.
The blogger there claimed that my favourite Chinese local newspaper
Apple Daily
had made a biased report on the EU citizenship issue related to BN(O) passport holders. How biased was that? The reporter asked the
Office of the European Commission in Hong Kong and Macao
and the
British Consulate-General Hong Kong and Macao
if BN(O) holders enjoy a right of abode in EU countries after the signing of the Lisbon Treaty. The blogger doesn't seem to like the big fat NO as an answer. So, he quoted a copy of this
German letter
to make his point.
He got that letter from an earlier blog post of his associate
Martin Oei
. That letter was issued by the
KVR
of Munich, after a certain netizen they knew had applied for a "residence permit" to Germany with a BN(O) passport. I originally thought these two respectable bloggers read the German in the letter; it however turned out that they had to run it through the Google translator to read it instead. So, you can see it's a rigorous journalism!
Anyway, they believed that this letter they cannot read without a translation and whose source and context are unclear told the truth that they like to believe; while the answers the Apple reporters got from the EU Office and British Embassy are biased.
I had known very little about concepts like "right of abode" and "residence permit" before I encountered those
retarded
intelligent posts of them, so I checked. According to an immigration
information
page
of the
German Federal Ministry of the Interior, there're different types of permits called "residence permits". In all cases, these permits "
as a matter of principle, granted for a limited period of time and for the purposes listed in the Residence Act".
EU citizenship
, which entails "the right to move freely within the European Union and to enter and reside in any EU Member State", refers to something else. EU citizens are not required to apply for a "residence permit" for staying in Germany during the first three months. What's the real context of that German letter then? Somebody applying for a residence permit or enquiring about his/her EU citizenship?
I don't kno
w the answers for those questions. I only know that these two losers accused others for being biased while clinging on to a "truth" that they understand so little. And these are our influential local bloggers! We've heard about the great Martin Oei over the
Dark Side
. Who's that guy writing the famous Plastic Hong Kong Blog, then? He is
Kay Lam (林忌)
, the multi-talented dude who wrote the lyrics to the famous "
Folk Guy's always with you!
".
In the Hong Kong blogsphere, we have these morons who don't know shit from shinola got followed by hundreds of people. I told you about how this
douchebag
, who're an active player in the local IT industry, plagiarised the Twitter designs to make some
stupid shits
. I'm now contemplating subscribing to this
Complete Social Media Douchebag
service to stay in tune with our fellows.